v1.31.0
Allow customers to choose 'processable area' when ordering ROCK Planimetrics. This allows customers to select a subset of their scan for processing.
Add configuration options for ROCK Vegetation Management and ROCK Planimetrics. This includes Corridor Width, Planimetric Resolution, and Rural, Semi-Urban, Urban selection.
Updates to the checkout/payment flow.
Export measurements to DXF or geoJson file.
Select 'EXPORT':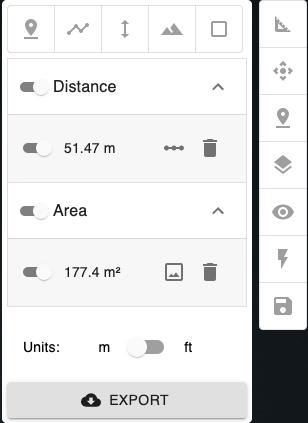 Select 'DOWNLOAD'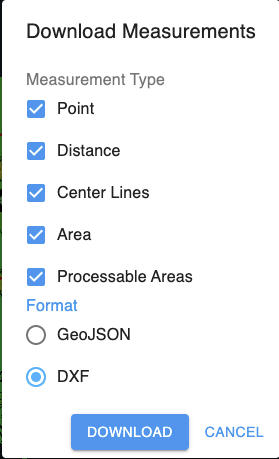 v1.30.0
Allow ordering ROCK Vegetation Management by the mile instead of by the acre.
v1.29.0
Auto submit file uploader to begin processing visualizer sooner for large uploads.
Add ability to share ownership of a project.

v1.28.0
v1.27.0
Update automated email language.
Add ability to select export file type (las, laz, xyx)
Add notice if customer is using an unsupported browser.
v1.26.0
Allow for uploads up to 100 GB per file and add a new file handler.
v1.25.0
Add vegetation violations to the map view.
v1.24.0
v1.23.0
Add real-time end-user messaging to tell users about the progress of their project processing.

v1.22.0
Add ROCK Planimetrics

v1.21.0
Add ROCK Hydrology

v1.20.0
v1.19.0
Add low/medium/high resolution for contour display

v1.18.0 Release Notes
Point Cloud Compare

Move project location in map view

Allow pts, ply, and e57 point clouds in addition to las and laz.
v1.17.0 Release Notes
v1.16.0 Release Notes
Add BayesMap Strip Align to the marketplace.
v1.15.0 Release Notes
Move Deliverables into sidebar
Add Marketplace to sidebar
v1.14.1 Release Notes
v1.14.0 Release Notes
Update project projection creation.
v1.13.0 Release Notes
Update GCP handling within LiDAR viewer.
v1.12.0 Release Notes
Add ability to move the point cloud. This is especially useful to correct for deviations from ground control points.

v1.11.0 Release Notes
Re-design project creation and edit.
v1.10.0 Release Notes
Add ability to select and reproject the vertical projection of a point cloud.
Display demo projects on 'My Projects' page
v1.9.0 Release Notes
Add ability to save lidar visualizer configuration via toolbar
v1.8.0 Release Notes
Add ability to move point cloud X, Y, Z on export.
v1.7.0 Release Notes
v1.6.0 Release Notes
Add folder structure to project view
Misc bug fixes for LiDAR visualizer
v1.5.0 Release Notes
Add OGC WKT projection strings
v1.4.0 Release Notes
Add marketplace
Add cookie consent
Add ability to organize users in an Organization
Add email notifications on processing jobs complete
Update projections
Add free tier notification popup
v1.3.4 Release Notes
v1.3.3 Release Notes
Add filtering and sorting to project page
v1.3.2 Release Notes
Add project map view
Update project create/edit page styling
v1.3.1 Release Notes
v1.3.0 Release Notes
Allow for deg min sec on GCPs
Update GCP help text
Add link sharing by link.
v1.2.8 Release Notes
Add project sharing by email address.
v1.2.7 Release Notes
Add contour visualization.
v1.2.6 Release Notes
Minor fixes for trajectory selection.
v1.2.5 Release Notes
Minor fixes for trajectory selection.
v1.2.4 Release Notes
Add Acquisition Vehicle taxonomy to Project.
v1.2.3 Release Notes
Update internal notifications
v1.2.2 Release Notes
v1.2.1 Release Notes
Added LAS and LAZ automatic processing.
v1.2.0 Release Notes
Added the ability to select your flight lines for processing.
v1.1.0 Release Notes
Added subscription status in menu sidebar
Added Power Line classification as an option for ROCK cloud processing
Added ability to upload photos of ground control points and base station
v1.0.0 Release Notes
Create a free account using industry security leader Auth0.
Project listing page.
Create a new project and upload your R1A data.
Submit your data for processing.
View demo projects.
Use the Rock Cloud Data Visualizer to manipulate and analyze your data.
View ground control points on the map view and LiDAR view.
Save annotations and the default view for your LiDAR data visualizer.
Measure area using the Area Measurement tool.
Measure distance using the Distance tool.
View LiDAR data based on ground classification.
View height profile of LiDAR data.