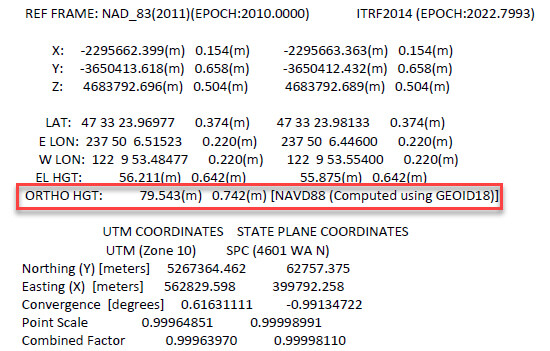 Hi ROCK Community,
I'd like to hear input on others utilizing the OPUS report for their Emlid Reach RS2. I understand the general process for pre processing the LiDAR and using the E LON/W LON & EL HGT with OPUS. My question is specifically around when you've reprojected a project into State Plane, and then need to convert the HEIGHT reading from OPUS into your state plane GCP.
Here are my questions:
When converting the project from WGS/Ellipsoid to state plane, can the ORTHO HGT be used safely to represent the Z value of the ground?
Can you simply convert the 79.543(m) to 260.96(ft) to get the height in feet? Or is there some other computation required?|
What does the 0.742(m) number represent in this ORTHO HGT example?
As a background, when I was recording my GPS, I did not input any antenna height into Reachview3 app. when I submitted to OPUS, I added the 2.0 meters to account for the height of the 2m pole. My goal here is to solidify the GPS alignment process when not using survey controls and relying on the OPUS solution from the RS2 Base readings.